ROBERT O'HARAE
Senior Associate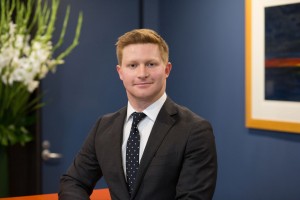 Phone: (02) 9290 1177
Fax: (02) 9290 1181
Email: roharae@uwe.com.au
BACKGROUND
Robert advises a broad range of clients individuals including those with blended families, vulnerable beneficiaries, the elderly, high net worth individuals and business owners. He has a particular interest in estates involving complex trust structures.
Working closely with his clients, Robert ensures that their matters are resolved in a pragmatic, timely and cost-effective manner. Robert's professional and empathetic approach reassures his clients along each step of their Estate Planning and litigation journey.
Prior to joining Uther Webster & Evans, Robert spent a number of years practising at a leading commercial firm and a boutique family law practice. He draws on his varied experience when advising clients with respect to all facets of their matter both contentious and non-contentious.
Robert has particularly strong experience in:
· Advising clients with regard to family provision claims;
· Assisting clients with applications for probate and letters of administration;
· The administration of large, complex estates; and
· Filing applications pertaining to the appointment of testamentary guardians with the Family Court of Australia.
Outside of his work, Robert is a member of several French language groups which assist in the development French language learning in Australia as well as assisting both tourists and migrants in Sydney. He is able to assist clients from the French community with their Wills and estate administration and litigation matters.
Qualifications:
Bachelor of Laws (Hons) and Bachelor of Arts in International Studies
Memberships:
Law Society of NSW
Young Lawyers NSW